Comparison of the speed of the best website builders in 2020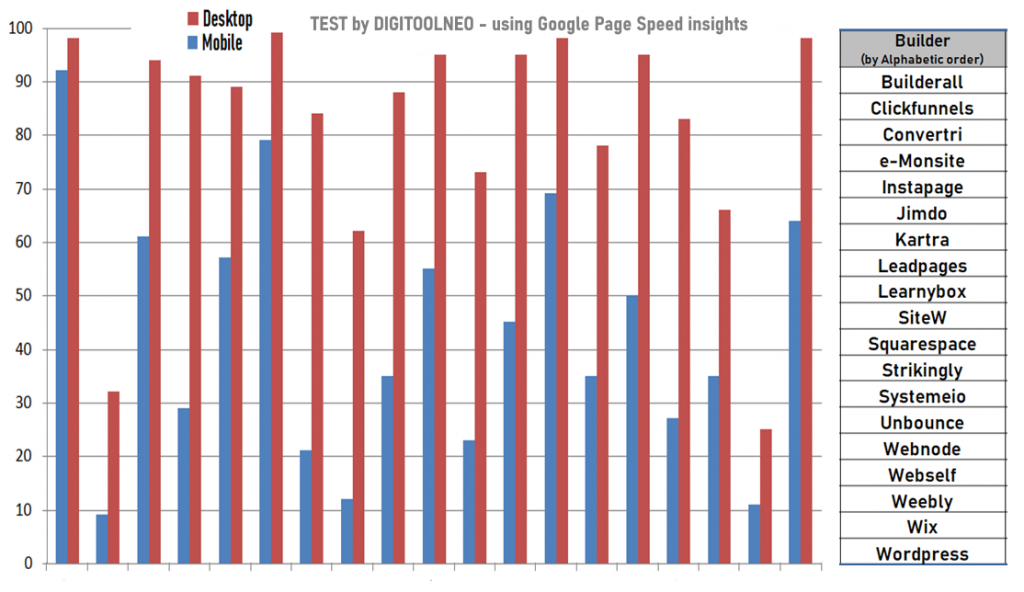 Comparison of the speed of the best publishers and website creators in 2020
You want to make your site. But, you don't know which builder to use?
Let me tell you that more than half of the websites that run are created by people who don't know programming languages and computer coding. Gone are the days when you had to be an expert or a genius to make your site. The reason is that site builders (also called publishers or creators of sies) operate with drag-and-drop technology.
If you read articles, you watch videos, these show you the rankings of web publishers. You'll also notice that rankings vary depending on which site owners published the article or video. But, there's one thing we don't often address: it's how fast your site will be loaded when you finish it.
A slow site makes you lose visitors and sales
If your site is very slow, here's what's going on. Visitors try to access your site but as it is slow to load they "zap". Patient visitors wait a little but immediately on your site, they will come out. They're going to bounce back to something else. Experts call it the rebound rate. For example, 100 people click on your site's link and 80 leave without having visited the pages. The rebound rate is 80/100 or 80%.
If you make sales pages, capture pages, e-commerce, etc. you will lose a significant percentage of visits, leads, sales and therefore customers.
That's why it's important to look at how fast your web page editor loads if you're doing business.
Slow mobile sites are sanctioned by Google
A war reigns between Google's Android systems and Apple's IOS on mobiles. Chinese manufacturers (Huawei, Oppo, etc.) have just developed their operating system. Users are demanding and manufacturers are forced to perform!
On mobiles, especially those that work with Android, Google is ruthless towards sites that are slow. If your website takes a long time to load, Google will penalize it.
If you do blogging, the consequence is less serious. Google will take into account the length of session (the time the visitor will spend reading your pages) and it will compensate for the slow loading.
Google Tools: PageSpeed Insights, TestMySite
For Google, speed is an important ranking parameter for SEO. Google has developed Google PageSpeed Insights to test the loading speed of websites. It tells you the result on mobile and desktop. You can check where your website or site builder is. PageSpeed has a score between 0 and 100 points. It's based on Lighthouse.
Google has also developed the "Test My Site, Think With Google" tool TestMySite.ThinkWithGoogle specifically dedicated to measuring the speed of mobile sites. The resulting reports are appreciated by marketing agencies.
The "Google Analytics" tool also offers the ability to estimate the speed of the site. But, it offers only one indication that should not be taken as a reference.
The 7 most popular speed test tools on the market
Google has its tools, but professionals often use other alternatives, some of which are market benchmarks. Use these tools to find out if your website or web builder is on top.
Pingdom
Pingdom is an inescapable and popular reference for speed testing. Although professional, it offers a free level of use.
GTmetrix
GTmetrix enjoys the same notoriety as Pingdom. You can use it as an alternative.
WebPageTest
WebPagetest is an open source and free speed measurement tool. It was developed by a former Google Chrome browser engineer.
KeyCDN
KeyCDN is free. The CONCEPT of CDN assumes that you can choose to simulate the speed of your site among 14 locations (Paris, New York, Frankfurt, etc.).
Web Page Analyzer
Web Page Analyzer is free but offers useful metrics on your site and free optimization tips.
Yslow
YSlow is a free tool developed by Yahoo. Install it as an extension in your browser and let's go!
DareBoost
DareBoost is a paid tool that offers a variety of results including speed, SEO, quality, safety. Five free reports are available monthly.
Let's now measure the speed of the most popular web manufacturers
As a demonstration, we tested the speed of the website editors below with the Google PageSpeed tool. The results are quite surprising. The Builderall Builder appears the fastest on mobiles according to Google!
As a demonstration, we tested the speed of the website editors below with the Google PageSpeed tool.
Builderall – Instapage – WordPress – Convertri – Unbounce – Kartra – Weebly – Squarespace – Wix – Clickfunnels – Leadpages – Système.io – Learnybox – Groovepages – Jimdo – Webnode – Striklingly – e-monsite – Sitew – Webself…
The results are quite surprising. The Builderall Builder appears the fastest on mobiles according to Google!
Conclusion: My opinion
I tested several platforms. The speed problems led me to give up some because of the speed defects. When I develop a website, I think of visitors in areas and countries where internet speeds are low. In addition, slow loading can discourage visitors. On the other hand, I enjoy working with platforms that are in the logic of profit sharing.
I kept my old blogs, realized as "Savoir et Abondance" with WordPress …
As for digital marketing (capture pages, sales pages and conversion tunnels…), I opted for BUILDERALL.
This platform also includes an integrated self-responder and many other tools that I use on Digitoolneo.com
I recommend in second position SYSTEM. Io
➡ About José Berre.
I help entrepreneurs start their business or boost their business through digital marketing (https://digitoolneo.com). Obviously, I use the most effective digital marketing platform
➡ For information.  
Some of my links may be affiliate links. Membership is a great lever to promote products that are convinced while being paid.  The information I share in my videos is presented for informational purposes but cannot be the perfect or unique solution! I cannot be held responsible for what you do with it. If you generate income through my advice, consider being in good standing with taxes!